Description
The adjustable Riley Counter Stool is sleek, functional and is perfect for your kitchen island or bar counter. It features a vinyl or leather seat and back, round chrome base, and a hydraulic lift capable of reaching both counter and bar heights with a simple adjustment mechanism. Its thick, padded seat and back provide excellent levels of comfort and support and add a sporty elegant appeal, making it perfect for any modern bar or dining area. Available in black, dark grey and white vinyl and dark grey and white leather.
Many of our products have their own manufacturers warranty against workmanship deficiencies. If you are interested in additional stain protection services, ScanDesigns offers peace of mind stain protection program that is one of the best in the industry. ScanDesigns has partnered with Excelsior to create a clean, repair, replace program that if not used, you as the customer will be able to use the amount paid as a credit to future purchases once the plan has expired. If you don't use it, you don't lose it! For more information please visit our extended stain protection program. Excelsior Peace of Mind Stain Protection Program.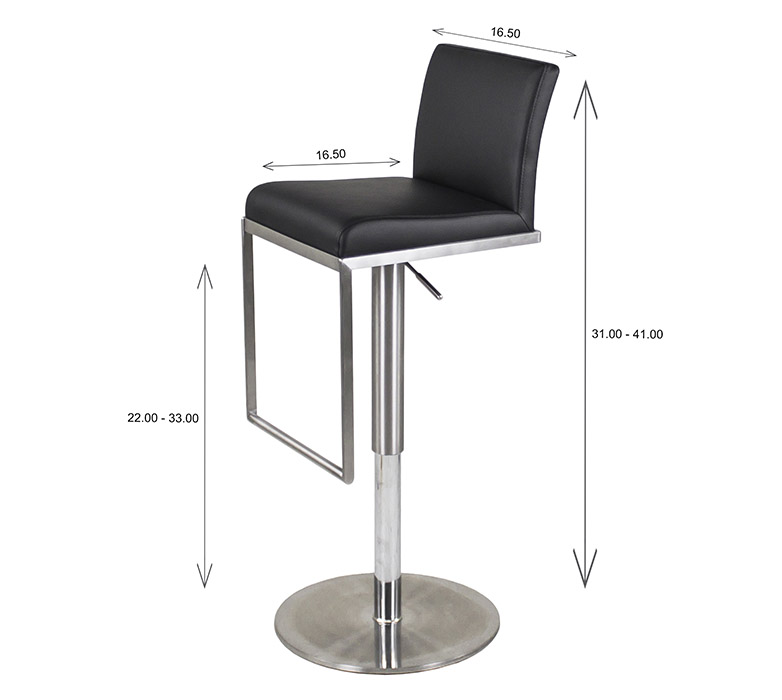 LEATHER CARE INSTRUCTIONS
Periodically dust using a clean, dry and non-abrasive white cloth.
If leather is soiled, it can be wiped with a soft, damp cloth using a lather of any colorless mild soap with lukewarm water. Do not spot clean leather; clean the entire surface. Wipe clean with a damp cloth and dry with a clean, soft cloth. Let the leather air dry; never use a hair dryer or other heat source to dry leather.
To keep your furniture looking good we recommend you fully clean and protect your leather furniture 2-4 times a year using Hidebracer leather cleaner & conditioner. Available In-store. Pay particular attention to the seats, arms and head rests, as these areas experience the greatest body contact.
VINYL CARE
Always clean your vinyl seats with dish cloths, sponges, and other implements that won't cause the seats to tear. Water and soap will do in most cases, but sometimes you'll need to use stronger cleaning.
(Stronger) Sprinkle baking soda on a damp cleaning cloth or a sponge designated for cleaning only. Rub the cloth over the surface of the furniture, adding more baking soda or water as needed. Wipe with a damp cloth afterward to rinse.