Description
A mix of modern and classic, the Alexa Desk is a sleek addition to the stylish home. Available in a walnut or white lacquered finish with chrome legs, this two-drawer desk will make a bold statement in any size of space.
Many of our products have their own manufacturers warranty against workmanship deficiencies. If you are interested in additional stain protection services, ScanDesigns offers peace of mind stain protection program that is one of the best in the industry. ScanDesigns has partnered with Excelsior to create a clean, repair, replace program that if not used, you as the customer will be able to use the amount paid as a credit to future purchases once the plan has expired. If you don't use it, you don't lose it! For more information please visit our extended stain protection program. Excelsior Peace of Mind Stain Protection Program.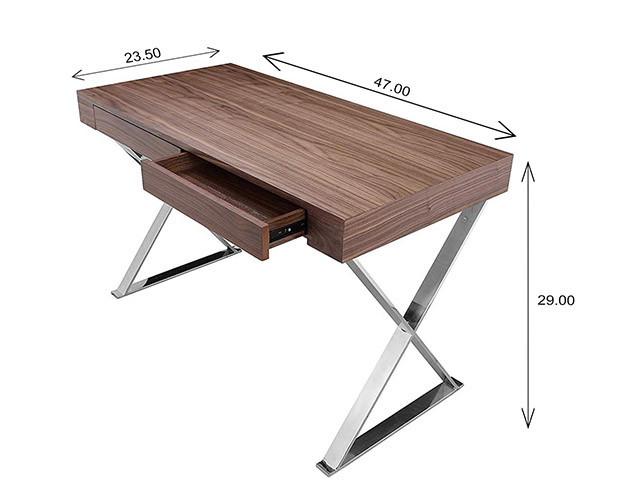 NORMAL CLEANING
When cleaning and dusting  a wood veneer surface, whether that's a dining table, coffee table or sideboard, we suggest using a damp, soft lint-free cloth.  Wipe dry with a dry, soft cloth in the direction of the wood grain.
Spills should be immediately wiped up with a damp cloth.  When trying to tackle those more stubborn marks caused by food and drink, apply a dab of mild dish washing detergent to your cloth and again wipe in the direction if the wood grain.
RISK MANAGEMENT
To reduce the risk of damage, take some precautions: Use coasters for glasses and mugs. If a glass top is added to the veneer surface, be sure it rests on felt pads. Don't place a potted plant on a veneer surface unless it's in a water-tight container or in a drip tray. Use protective pads under pottery,heavy objects or any items that may have a rough bottom.
HEAT
Place trivets under hot serving bowls, Place coasters under hot drinks to avoid high heat causing the veneer to blister.  Never place hot items directly on top of veneer surfaces.
LACQUER INFO
KEEP IT DRY
You want to do your best to keep all your lacquered items dry at all times. Water can damage lacquer in a relatively short amount of time. It will leave spots that are difficult to get out later, and if left alone it can remove the finish in these spots.
CLEAN WITH MILD SOAP
The best way to clean lacquer is to use mild soap and warm water. A mixture of one teaspoon of soap to a half-gallon of water is sufficient. Wring your cloth out so it's only damp, not dripping wet. Wipe the lacquer down avoiding circular motions. Once it's cleaned, you want to take a soft dry cloth and wipe any excess water away. Remember water can be death to lacquer finishes if left alone. You also need to make sure the cloth has no foreign material that can scratch the surface. The smallest grain of dirt can wreak havoc on a lacquered finish. Using harsh household cleaners will pull the finish off as well. Avoid using any cleaner that has bleach or ammonia in it.
REGULAR DUSTING
Lacquer will show dust much faster than other types of finishes. You should dust with a soft lint-free cloth or a clean feather duster. You don't want to drag the dust across the surface since it can contain small hard particles that can scratch the surface. Keeping the surface dusted and clean will help prevent these hard particles from building up, and will help you maintain the look of the high gloss.