Elegant design
Fixed back
Curved wood trim detail ( 8 possible colour options )
Made in Norway, assembled in the U.S.
Matching colour Stressless recliners available
More colour options available in-store, Call or Visit and talk to a sales representative for details

Available for pick up or local delivery or 3rd. party shipping
Description
Stressless® Flora Sofa boasts a timeless and traditional design with a soft look and a sumptuous seat and back. There is an elegant wood detail on the armrest, available in many different colours. Stressless® has mastered the science within the sofa and cushion design to ensure the upholstery retains its elegant and neat silhouette. The cushions are contoured by French seams for a more precise look.
Careful thought has been put into construction, angles and cushioning to provide exquisite comfort. The seat cushions have ComfortZones™ to enhance the softness and make the cushions adapt to your seating position. The Stressless® Flora sofa is the perfect spot for relaxing in style.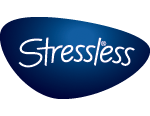 Many of our products have their own manufacturers warranty against workmanship deficiencies. If you are interested in additional stain protection services, ScanDesigns offers peace of mind stain protection program that is one of the best in the industry. ScanDesigns has partnered with Excelsior to create a clean, repair, replace program that if not used, you as the customer will be able to use the amount paid as a credit to future purchases once the plan has expired. If you don't use it, you don't lose it! For more information please visit our extended stain protection program. Excelsior Peace of Mind Stain Protection Program.
2.5 Seat   |  75″ W x 36.25″ D x 32.25″ H
3 Seat   |  93.75″ W x 36.25″ D x 32.25″ H
LEATHER CARE INSTRUCTIONS
Periodically dust using a clean, dry and non-abrasive white cloth.
If leather is soiled, it can be wiped with a soft, damp cloth using a lather of any colorless mild soap with lukewarm water. Do not spot clean leather; clean the entire surface. Wipe clean with a damp cloth and dry with a clean, soft cloth. Let the leather air dry; never use a hair dryer or other heat source to dry leather.
To keep your furniture looking good we recommend you fully clean and protect your leather furniture 2-4 times a year using leather cleaner & conditioner. Available In-store. Pay particular attention to the seats, arms and head rests, as these areas experience the greatest body contact.
Do not place in direct sunlight, direct sunlight will fade/change the leather colour.
10 year warranty on internal mechanism
We guarantee the internal mechanism of our recliners for a period of 10 years from the date of purchase of the product. The 10 year guarantee covers the Plus™-System and the internal metal frame, including the metal springs and gliding system. It does not cover damage to leather, woodwork or any faults or damage caused by the use of the product other than in accordance with the manufacturer's recommendations, as well as any faults or damage arising from any repairs made by any persons not authorized by the manufacturer.
5 year warranty on base
The 5 year warranty covers the base for the chair and ottoman, including the swivel ring, gas lift, extensions as well as all foam and interior padding in the chair and ottoman. Also includes electronic parts and motor for LegComfort mechanism and all accessories. Please note that some deformation and indention in padding is considered normal and is part of a break-in process.
2 year on LegComfort Battery
1 year warranty on leather or fabric upholstery
The 1 year warranty covers the leather or fabric upholstery including stitching and zippered assemblies assuming that the product has been cared and maintained using Ekornes approved guidelines for maintaining leather furniture.