King Multi-Function Recliner
Power recliner with remote
Lift chair function for accessibility
Effortless reclining and adjustable backrest angle
Articulating and telescopic headrest for added neck support
Foldable footrest
Cold-Cure foam cushioning
Full top grain leather
10 Year warranty
Designed in Norway

Available for pick up or local delivery or 3rd. party shipping
Description
King Multi-Function Recliner, Unsurpassed comfort with high quality and space efficient design. The Relaxer gives you lift functions, reclining, adjustable headrest support and integrated footrest. The King Relaxers are made with Cold-Cure Molded Foam Cushioning. This unique space-age technology ensures comfort, body correct support as well as durability.
Many of our products have their own manufacturers warranty against workmanship deficiencies. If you are interested in additional stain protection services, ScanDesigns offers peace of mind stain protection program that is one of the best in the industry. ScanDesigns has partnered with Excelsior to create a clean, repair, replace program that if not used, you as the customer will be able to use the amount paid as a credit to future purchases once the plan has expired. If you don't use it, you don't lose it! For more information please visit our extended stain protection program. Excelsior Peace of Mind Stain Protection Program.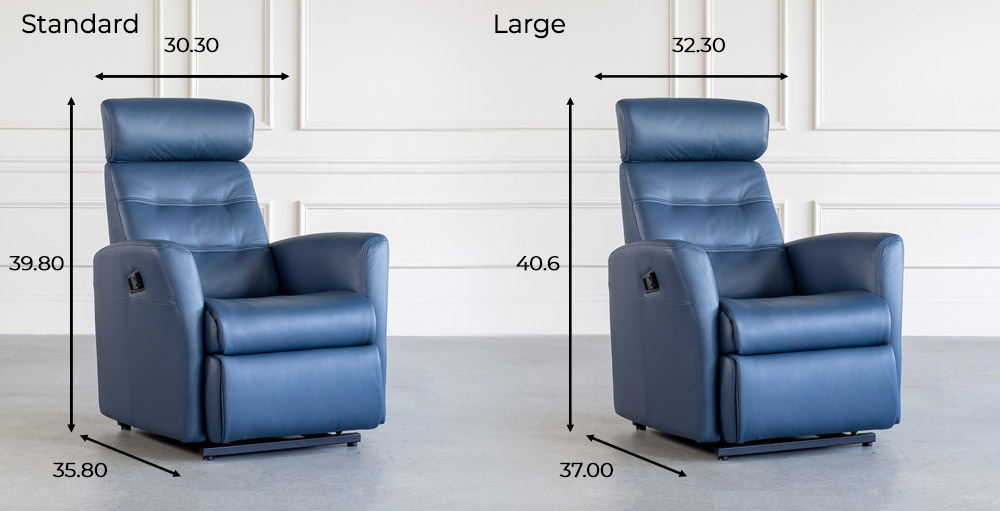 LEATHER CARE INSTRUCTIONS
Periodically dust using a clean, dry and non-abrasive white cloth.
If leather is soiled, it can be wiped with a soft, damp cloth using a lather of any colorless mild soap with lukewarm water. Do not spot clean leather; clean the entire surface. Wipe clean with a damp cloth and dry with a clean, soft cloth. Let the leather air dry; never use a hair dryer or other heat source to dry leather.
To keep your furniture looking good we recommend you fully clean and protect your leather furniture 2-4 times a year using leather cleaner & conditioner. Available In-store. Pay particular attention to the seats, arms and head rests, as these areas experience the greatest body contact.
Do not place in direct sunlight, direct sunlight will fade/change the leather colour.
10-years warranty – frames
Steel structural frame elements are warranted against breakage for a period of ten (10) years. Wood sofa frames and steel insert frames are also warranted against breakage for a period of ten (10) years.
10-years warranty – molded foam
Molded cushions are warranted against collapsing for a period of ten (10) years.
Loss of foam resiliency should not be confused with softening of foam or stretched cover, which are results from normal use. Owners of upholstered furniture should also expect foam and fiber fillings to compact over time.
5-years warranty – mechanism
Recliner mechanisms including steel springs are warranted against breakage for a period of five (5) years.
Please note that this does not cover any type of minor sound or noise in the mechanism or unevenness in swivel mechanisms. This is normal and the result of general use.
2-years warranty – power
Warranty period for defects of new motors and related parts are two (2)years.
Excluded from the warranty are non-material defects or deviations in the properties and condition of the product, which are negligible for the value and intended use of the equipment. Replacement of spent batteries / rechargeable batteries is also not covered by this warranty.
2-years warranty – leather
leather products are warranted against tearing and cracking for a period of two (2) years.
The warranty does not cover normal fading, damage due to improper use of chemical treatments that are not endorsed , damage from lack of required caution or regular care and maintenance.
The warranty does not include claims for veins, wrinkling, natural markings from healed scars or variations in grain or color. These natural features are proof that only genuine leather has been used. The warranty does not include stretching of leather or fabric. This is normal Warranty Policy and results from normal use.
Exposure of leather and fabric to sunlight or extreme light sources will cause fading and damage and is not covered by the warranty.
2- years warranty – Workmanship & other materials and components
All other materials, parts, components, and other furniture products not specifically included in the above warranties and workmanship are warranted against defects for two (2) years.