Description
Simple and elegant the Lepage Coffee Table is perfect for any living room. Rectangular in shape this coffee table can be used with sofas or sectionals. The thick tempered glass top provides a unique design element with its rounded sides. Complimented by a wood base available in either walnut, white lacquer or black oak veneer. The walnut coffee table also has a matching walnut end table to complete the room.
Many of our products have their own manufacturers warranty against workmanship deficiencies. If you are interested in additional stain protection services, ScanDesigns offers peace of mind stain protection program that is one of the best in the industry. ScanDesigns has partnered with Excelsior to create a clean, repair, replace program that if not used, you as the customer will be able to use the amount paid as a credit to future purchases once the plan has expired. If you don't use it, you don't lose it! For more information please visit our extended stain protection program. Excelsior Peace of Mind Stain Protection Program.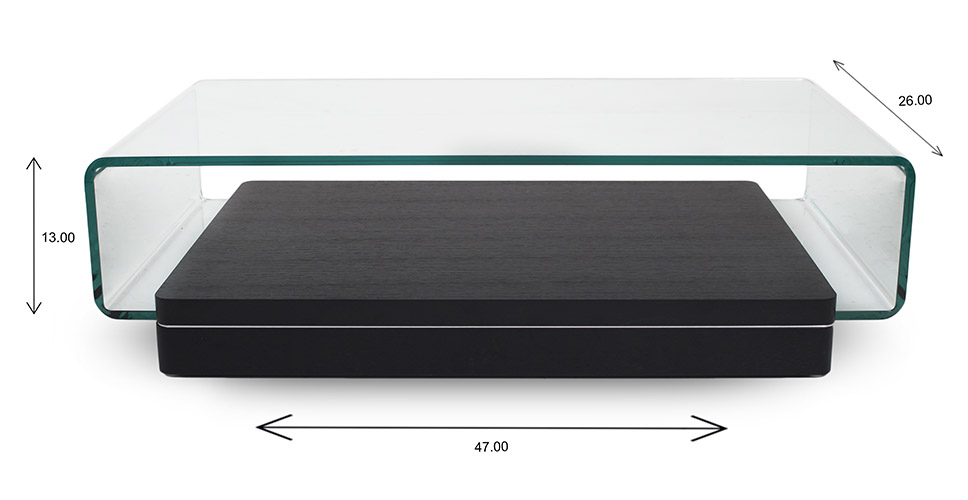 GLASS CARE:
Glass Table Tops are definitely and undoubtedly wonderful additions in your home or office. It is a piece of furniture that can last you a long time, if you give it proper glass table top protection.
Table Tops are made of tempered glass, which makes it sturdier than ordinary glass. It is chemically treated so it can handle greater strain and pressure. Though it is stronger than ordinary glass, it does not mean that you should just neglect it. If you want your glass table top to last, give it proper care and glass table top protection.
Prevent Scratches
Prevention is always better than cure. Never keep items on your tabletop that can scratch it. These items can include toys, books, and other items with sharp edges and rough bases. If you want to display your best coffee table books on your glass table top, you can place a protective yet stylish runner under it.
Clean Your Glass Table Top Properly
Apply any good quality glass cleaner to a clean, lint-free cloth, before wiping glass surface. Do not apply cleaner directly to glass surface to prevent damage to wood or metal finishes.
Do not use abrasives and cleaners that contain ammonia and acid. You should also avoid wiping your glass table top with paper towels. Paper towels can leave an unsightly lint on the glass surface.
Want a budget-friendly way to clean your glass table top? Mix white vinegar and water, and apply directly to glass. You can wipe it off with a newspaper to prevent lint and scratches on your glass top. For commercial cleaners, use light aerosol foam cleaners. They leave your glass sparkling like its new with a single spray and wipe.