DESCRIPTION
The Nicola Chair is a modern accent piece that features a 360 degree swivel base. A classic club chair with soft, curved design lines, the Nicola effortlessly turns on its base so you can easily join any conversation. It is available in a large selection of leather and fabric colours. Great for open plan living areas, or any corner that you want a comfortable chair to relax in.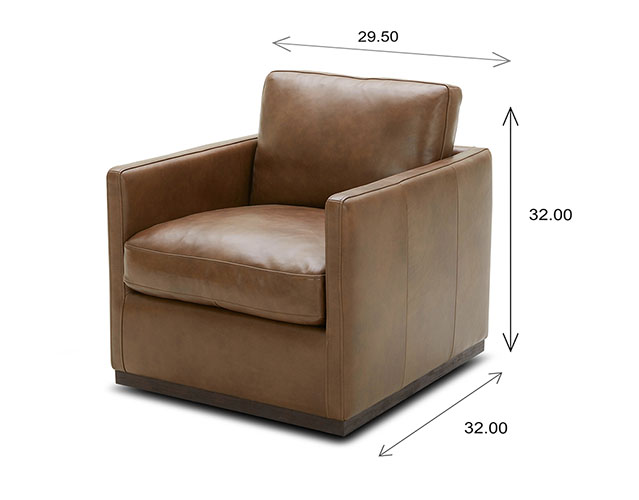 LEATHER CARE INSTRUCTIONS
Periodically dust using a clean, dry and non-abrasive white cloth.
If leather is soiled, it can be wiped with a soft, damp cloth using a lather of any colorless mild soap with lukewarm water. Do not spot clean leather; clean the entire surface. Wipe clean with a damp cloth and dry with a clean, soft cloth. Let the leather air dry; never use a hair dryer or other heat source to dry leather.
To keep your furniture looking good we recommend you fully clean and protect your leather furniture 2-4 times a year using Hidebracer leather cleaner & conditioner. Available In-store. Pay particular attention to the seats, arms and head rests, as these areas experience the greatest body contact.
FABRIC CARE INSTRUCTIONS
A simple brushing and vacuuming once a week or at least once a month will reduce wear and tear.
Dust also your furniture regularly by using a soft damp cloth.
If you notice a loose thread, cut it off and tuck the exposed end back into the fabric. Never pull it!
STAIN AND DIRT REMOVAL ADVICE
Act immediately. Use a special spot cleaner or fabric cleaner.
For wet stains, absorb as much of the liquid as possible with paper towels or a soft cloth before starting the cleaning process.
If spills or stains are excessive, we advise contacting a professional upholstery cleaner, or use a specialized fabric cleaning service.
5 Years Limited Warranty on the internal and / or external frame
2 Years Limited Warranty

against manufacturing and material defects

on cushioning material, manual or electric mechanisms, suspension systems, wood trim and finishing and fabrics
2 Years Limited Warranty

against manufacturing and material defects

on Fabric and Leather