Vertical Wall Bed and Desk
Contemporary design
Wall bed
Easy operation
Memory foam mattress size ( 59″ x 74″ )
Padded headboard
Ultra smooth gliding hardware
Locking mechanism
Desk top size (53.5″ W x 18.5″ D x 30.25 H)
Storage
Requires assembly
Only available at the Coquitlam and Victoria store locations
Description
It's a desk, It's a bed
Saving space never goes out of style! Storage and desk by day and bed by night. That's the double-duty magic of the Vertical Wall Bed and Desk. Make the most of your square footage with this versatile contemporary wall bed, a convertible design that lets you transform any room in your home into a guest room at a moment's notice.
The ultra smooth gliding hardware provides easy operation whether opening or closing the bed. The Vertical Wall Bed and Desk also includes a locking mechanism when the bed is closed to ensure safety when working at the desk. Storage is plenty with two wardrobe hanging areas and 2 storage pockets. This design also includes a back panel on the inside for a complete look.
Many of our products have their own manufacturers warranty against workmanship deficiencies. If you are interested in additional stain protection services, ScanDesigns offers peace of mind stain protection program that is one of the best in the industry. ScanDesigns has partnered with Excelsior to create a clean, repair, replace program that if not used, you as the customer will be able to use the amount paid as a credit to future purchases once the plan has expired. If you don't use it, you don't lose it! For more information please visit our extended stain protection program. Excelsior Peace of Mind Stain Protection Program.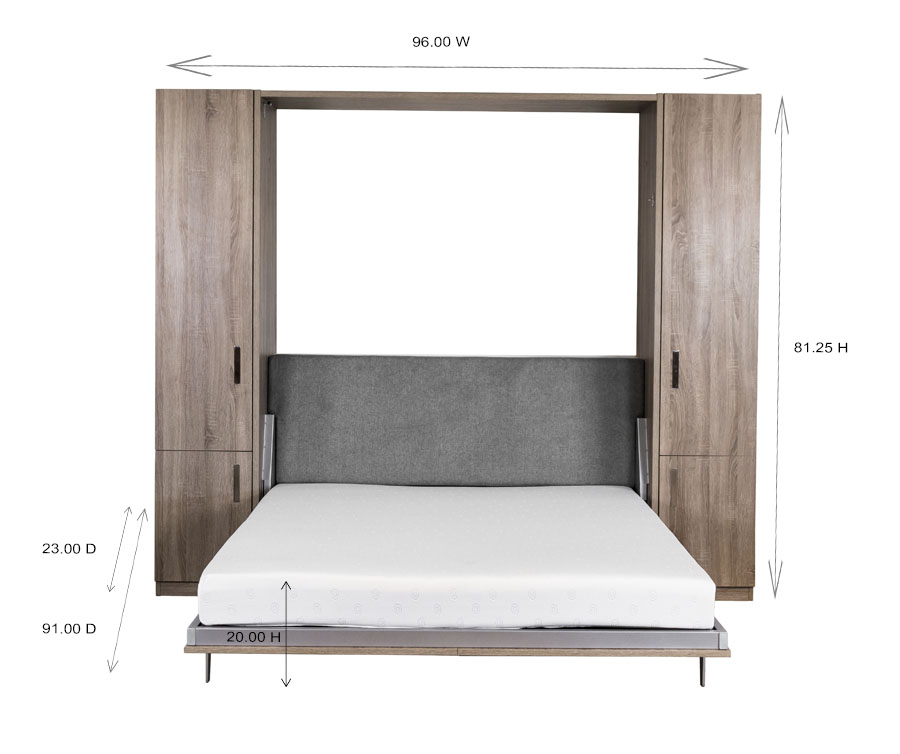 To clean the melamine surface, use a damp cloth or sponge and a mild soap or detergent. Rinse thoroughly with warm water and wipe dry.
Difficult stains such as coffee or tea can be removed using a mild household cleaner/detergent and a soft bristled brush, repeating as necessary.
If a stain persist, use a paste of baking soda and water and apply with a soft bristled brush. Light scrubbing for 10 to 20 strokes should remove most stains. Although baking soda is a low abrasive, excessive scrubbing or exerting too much force could damage the decorative surface, especially if it has a gloss finish.