DESCRIPTION
Yukon Coffee Table - Clean lines combine with sleek finishes in polished steel and glass to make this the perfect coffee table for your living room. A lower bottom shelf provides additional space to showcase books, gadgets and more. If you are going for a bold look the Yukon Coffee Table is the ideal blend of luxury and style.
Many of our products have their own manufacturers warranty against workmanship deficiencies. If you are interested in additional stain protection services, ScanDesigns offers peace of mind stain protection program that is one of the best in the industry. ScanDesigns has partnered with Excelsior to create a clean, repair, replace program that if not used, you as the customer will be able to use the amount paid as a credit to future purchases once the plan has expired. If you don't use it, you don't lose it! For more information please visit our extended stain protection program. Excelsior Peace of Mind Stain Protection Program.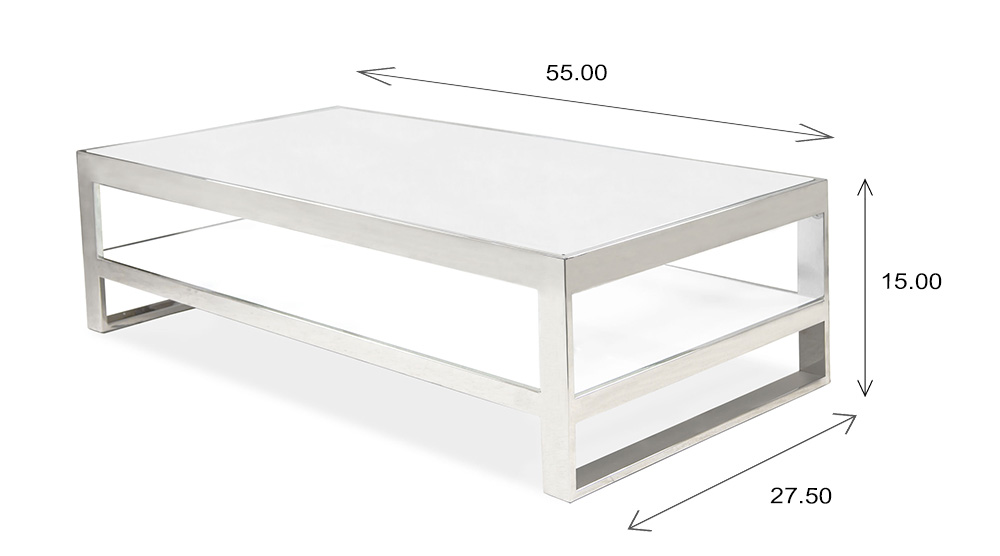 GLASS CARE:
Glass Table Tops are definitely and undoubtedly wonderful additions in your home or office. It is a piece of furniture that can last you a long time, if you give it proper glass table top protection.
Table Tops are made of tempered glass, which makes it sturdier than ordinary glass. It is chemically treated so it can handle greater strain and pressure. Though it is stronger than ordinary glass, it does not mean that you should just neglect it. If you want your glass table top to last, give it proper care and glass table top protection.
Prevent Scratches
Prevention is always better than cure. Never keep items on your tabletop that can scratch it. These items can include toys, books, and other items with sharp edges and rough bases. If you want to display your best coffee table books on your glass table top, you can place a protective yet stylish runner under it.
Clean Your Glass Table Top Properly
Apply any good quality glass cleaner to a clean, lint-free cloth, before wiping glass surface. Do not apply cleaner directly to glass surface to prevent damage to wood or metal finishes.
Do not use abrasives and cleaners that contain ammonia and acid. You should also avoid wiping your glass table top with paper towels. Paper towels can leave an unsightly lint on the glass surface.
Want a budget-friendly way to clean your glass table top? Mix white vinegar and water, and apply directly to glass. You can wipe it off with a newspaper to prevent lint and scratches on your glass top. For commercial cleaners, use light aerosol foam cleaners. They leave your glass sparkling like its new with a single spray and wipe.
MARBLE CARE & MAINTENANCE
Protecting marble against etching and staining takes effort, but thankfully not a lot. Tips on how to treat it right to ensure it will look its best for many years.
SEAL
Sealing repels staining agents but doesn't make marble stainproof.  When water no longer beads, it's time to reseal.
PROTECT
Vinegar, citrus, and tomato will etch marble; don't let them sit on the stone. "Treat marble as you would a fine wood finish,"  "Use coasters and cutting boards. Wipe up spills immediately."
CLEAN
Avoid using acidic or abrasive cleaners. "Vacuum or sweep up loose dirt, and use a damp sponge with mild soap regularly,"