Description
The Sandra Dining Chair is for those who love refined and sophisticated design, the Sandra features a high-backed seat that gently curves to provide security and superior comfort, while its upholstery and walnut legs give off a rich and elegant appeal. The Sandra dining chair is available in black, grey, light grey and white leather or a shale fabric option.
Many of our products have their own manufacturers warranty against workmanship deficiencies. If you are interested in additional stain protection services, ScanDesigns offers peace of mind stain protection program that is one of the best in the industry. ScanDesigns has partnered with Excelsior to create a clean, repair, replace program that if not used, you as the customer will be able to use the amount paid as a credit to future purchases once the plan has expired. If you don't use it, you don't lose it! For more information please visit our extended stain protection program. Excelsior Peace of Mind Stain Protection Program.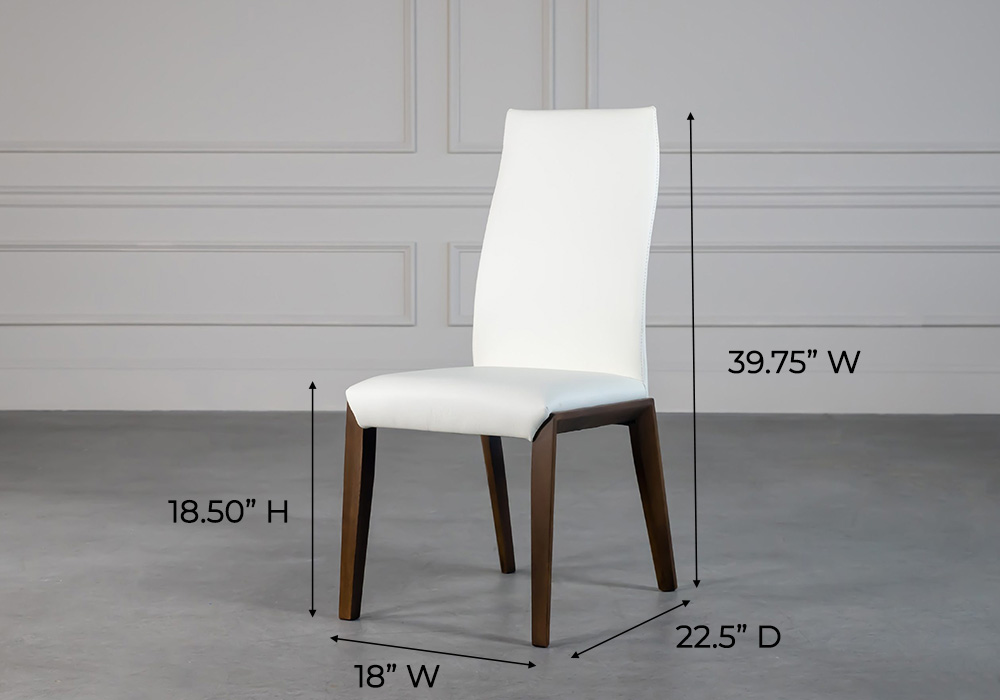 LEATHER CARE INSTRUCTIONS
Periodically dust using a clean, dry and non-abrasive white cloth.
If leather is soiled, it can be wiped with a soft, damp cloth using a lather of any colorless mild soap with lukewarm water. Do not spot clean leather; clean the entire surface. Wipe clean with a damp cloth and dry with a clean, soft cloth. Let the leather air dry; never use a hair dryer or other heat source to dry leather.
To keep your furniture looking good we recommend you fully clean and protect your leather furniture 2-4 times a year using leather cleaner & conditioner. Available In-store. Pay particular attention to the seats, arms and head rests, as these areas experience the greatest body contact.
Do not place in direct sunlight, direct sunlight will fade/change the leather colour.
FABRIC CARE INSTRUCTIONS
A simple brushing and vacuuming once a week or at least once a month will reduce wear and tear.
Dust also your furniture regularly by using a soft damp cloth.
If you notice a loose thread, cut it off and tuck the exposed end back into the fabric. Never pull it!
PILLING
Pilling is a characteristic of many upholstered fabrics that results in excess fibre coming off of the surface of the material. This release of excess fibre results in small balls or pills of fibre forming on the surface of the cover. This condition is not warranted by the fabric mills because it is not seen to be a defect, it is simply excess material being released. The pilling will persist until the excess fibre is gone and then it will cease. The best treatment while this is happening is simply to shave the cover with a battery-operated furniture or sweater shaver to remove the pills and restore the look of the cover surface. This may need to be done multiple times, but the pilling on the surface will begin to diminish and ultimately stop.
STAIN AND DIRT REMOVAL ADVICE
Act immediately. Use a special spot cleaner or fabric cleaner.
For wet stains, absorb as much of the liquid as possible with paper towels or a soft cloth before starting the cleaning process.
If spills or stains are excessive, we advise contacting a professional upholstery cleaner, or use a specialized fabric cleaning service.