Elite Modern Victor 3018Cer Carbo Dining Table
Boldly tapered chevron-shaped body
1/2″ Thick ceramic top
Powder-coated steel and wood veneer base
Seats 8-10 people
5 Walnut base colour options, 15 Metal colour options
Call or visit our store for all options
Made in the USA
Available for in-store pickup or local delivery
Description
Elite Modern Victor 3018Cer Carbo Dining Table, The strong geometry of Victor's boldly tapered chevron-shaped body, clad in striking panels of brushed stainless steel and rich walnut veneer, converges to create a modern sophisticated dining environment. We have paired this striking silhouette with our new extension mechanism for the utmost ease, flexibility, and strength. Our extension mechanism provides smooth travel and exceptional rigidity, with none of the shakiness or noise of other extension tables. For a truly stunning effect, choose from two Italian ceramic tops: Nero in a gloss finish, or Blanco in a luscious matte finish.
Elite Modern is firmly committed and driven by a passion for original design. We have been producing innovative and exceptional modern furnishings in the USA since 1988. The collections cover a wide variety of needs, from occasional tables, dining chairs, and tables, bars, barstools, home offices, and bedrooms. We have earned and established an unparalleled reputation for sensational designs, superior construction, and outstanding value.
Elite utilizes a sophisticated combination of materials including brushed stainless steel, powder-coated metals, solid woods, and veneers available in numerous finish options. We also offer a multitude of fabrics, leathers, and Ultrasuede choices to enhance the uniqueness of our diverse product assortment. Elite controls every phase, from the product design and development to the final delivery of our products. This ensures the superior quality that Elite has been recognized for as well as reliable and reasonable delivery times.
We have a strong collaboration with many of today's top American designers. Elite Modern collections consist of original designs by some of the industry's leading international designers, including Carl Muller and Rick Lee.Muller strives to make every design a fresh statement, combining comfort, elegance, and economy. He has been working with Elite for 20 years, with well over 200 successful designs brought to the marketplace. View the full Elite catalog of furnishings.
Many of our products have their own manufacturers warranty against workmanship deficiencies. If you are interested in additional stain protection services, ScanDesigns offers peace of mind stain protection program that is one of the best in the industry. ScanDesigns has partnered with Excelsior to create a clean, repair, replace program that if not used, you as the customer will be able to use the amount paid as a credit to future purchases once the plan has expired. If you don't use it, you don't lose it! For more information please visit our extended stain protection program. Excelsior Peace of Mind Stain Protection Program.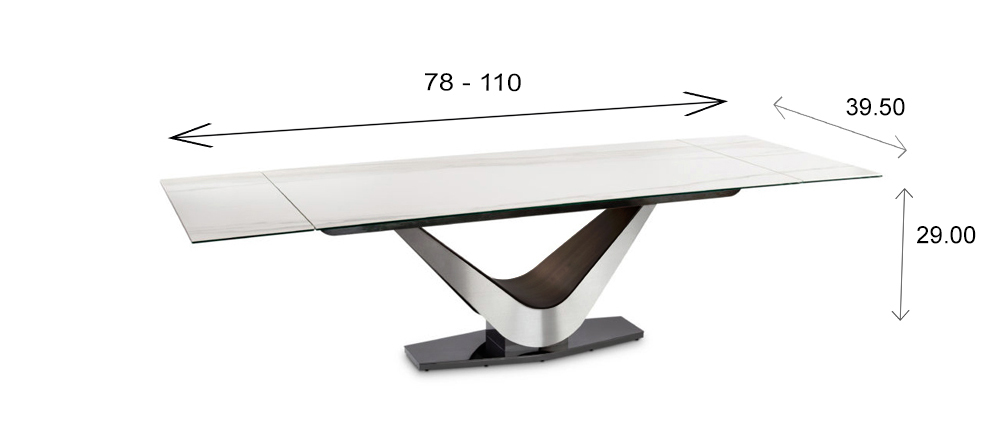 Elite Modern | WALNUT OPTIONS
Elite Modern | METAL OPTIONS
CERAMIC CARE:
Most of us can probably agree that when it comes to your home furnishings, the less upkeep required, the better. And when it comes to dining tables, ceramic tabletops are at the top of that list. Thanks to modern engineering, ceramic tabletops give you the best of both worlds, offering the beauty of a marble top, without the high maintenance.
Less is best when it comes to cleaning ceramic tabletops, Just wipe the surface with a damp cloth or sponge and a mild detergent, like the soap you'd normally use in the kitchen. Yes, it's that simple!.
Don't use abrasive cleaning products
You don't need to scrub it down or polish it daily. Ceramic is extremely durable, making it less prone to scratches and stains than a natural stone, like marble.
Day to day
Ceramic doesn't require very much protection. As we mentioned earlier, these tabletops are highly resistant to scratches and stains, granting you the peace of mind you need when the kids get messy or drag dishes and cups across the table. In the event that there is a big spill that stains, remove fresh stains as soon as possible with a solution mixed from bicarbonate soda and water. Simply wipe off with a wet sponge.