Description
The Caleb Coffee Table combines a oval wood and ceramic top with a light and elegant tapered leg with a brass detail. Perfect for use as a small table in any space in your home or office. The rounded table top and storage shelf are perfect to display books, magazines, decorative pieces or keep items stored away neatly.
Many of our products have their own manufacturers warranty against workmanship deficiencies. If you are interested in additional stain protection services, ScanDesigns offers peace of mind stain protection program that is one of the best in the industry. ScanDesigns has partnered with Excelsior to create a clean, repair, replace program that if not used, you as the customer will be able to use the amount paid as a credit to future purchases once the plan has expired. If you don't use it, you don't lose it! For more information please visit our extended stain protection program. Excelsior Peace of Mind Stain Protection Program.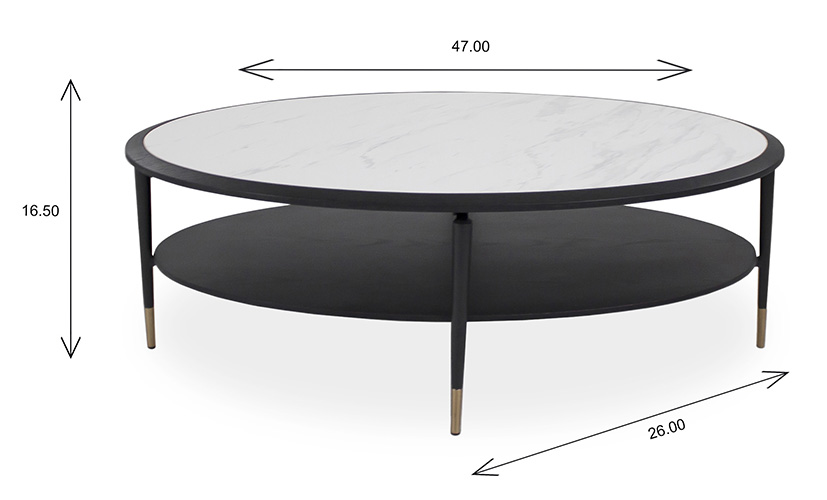 CERAMIC CARE:
Most of us can probably agree that when it comes to your home furnishings, the less upkeep required, the better. And when it comes to dining tables, ceramic tabletops are at the top of that list. Thanks to modern engineering, ceramic tabletops give you the best of both worlds, offering the beauty of a marble top, without the high maintenance.
Less is best when it comes to cleaning ceramic tabletops, Just wipe the surface with a damp cloth or sponge and a mild detergent, like the soap you'd normally use in the kitchen. Yes, it's that simple!.
Don't use abrasive cleaning products
You don't need to scrub it down or polish it daily. Ceramic is extremely durable, making it less prone to scratches and stains than a natural stone, like marble.
Day to day
Ceramic doesn't require very much protection. As we mentioned earlier, these tabletops are highly resistant to scratches and stains, granting you the peace of mind you need when the kids get messy or drag dishes and cups across the table. In the event that there is a big spill that stains, remove fresh stains as soon as possible with a solution mixed from bicarbonate soda and water. Simply wipe off with a wet sponge.
NORMAL CLEANING
When cleaning and dusting  a wood veneer surface, whether that's a dining table, coffee table or sideboard, we suggest using a damp, soft lint-free cloth.  Wipe dry with a dry, soft cloth in the direction of the wood grain.
Spills should be immediately wiped up with a damp cloth.  When trying to tackle those more stubborn marks caused by food and drink, apply a dab of mild dish washing detergent to your cloth and again wipe in the direction if the wood grain.
RISK MANAGEMENT
To reduce the risk of damage, take some precautions: Use coasters for glasses and mugs. If a glass top is added to the veneer surface, be sure it rests on felt pads. Don't place a potted plant on a veneer surface unless it's in a water-tight container or in a drip tray. Use protective pads under pottery,heavy objects or any items that may have a rough bottom.
HEAT
Place trivets under hot serving bowls, Place coasters under hot drinks to avoid high heat causing the veneer to blister.  Never place hot items directly on top of veneer surfaces.