Description
The quiet elegance of the Ventura Dresser is all about celebrating the beautiful grain of solid Amber bamboo. The modern style and simple clean lines of the dresser show off the rich variety of Amber's colors and feature a craftsman-built frame made from solid bamboo, resting on legs that lift the chest up off the floor. Four wide solid bamboo drawers display expanses of rich bamboo grain uninterrupted by hardware, with each drawer beautifully finished inside and out. Each drawer is built using English dovetail joinery, and sit on under-mounted, soft-close glides for easy opening and closing.
Greenington's president and founder was manufacturing high-quality bamboo products for over twenty years before he entered the business of creating his own line of high-quality solid bamboo furniture in 2004. Because of his expertise in working with the planet's most eco-friendly, rapidly renewable resource, Greenington's fine bamboo furniture has quickly risen to the top of the industry, known for its enduring beauty, style, and quality. These beautiful collections include dining tables and chairs, counter and bar stools, side tables and coffee tables, beds, dressers, and night tables.
Greenington's mission is to provide our customers with only the finest in bamboo home furniture. They strive to ensure that our products represent quality, style and elegance; that's why we use only the best materials, work with only the best craftsmen, and provide the best service.
Greenington's sustainability story is admirable. It takes 5 years for a full-grown bamboo tree while an Oak tree takes 70 years. Greenington utilizes the entire bamboo culm in the manufacturing process, wasting nothing. 100% of the bamboo material is used, including the sawdust, which is put to use generating steam for the dry kiln room and press machine. Greenington is proud to have the ISO 14001 environmental management certification. Following international standard guidelines, the Greenington factory carefully selects what materials are used, and ensures that all products are tested and that they meet or exceed the most stringent manufacturing standards. View the full catalog of Greenignton products.
Many of our products have their own manufacturers warranty against workmanship deficiencies. If you are interested in additional stain protection services, ScanDesigns offers peace of mind stain protection program that is one of the best in the industry. ScanDesigns has partnered with Excelsior to create a clean, repair, replace program that if not used, you as the customer will be able to use the amount paid as a credit to future purchases once the plan has expired. If you don't use it, you don't lose it! For more information please visit our extended stain protection program. Excelsior Peace of Mind Stain Protection Program.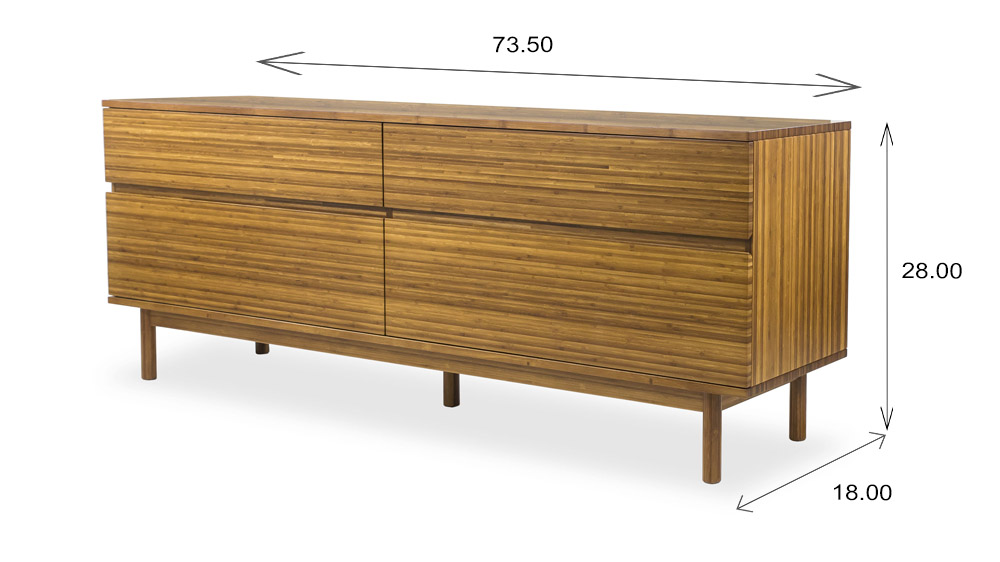 NORMAL CLEANING
Dust regularly with a slightly damp, soft, lint-free cloth.  Wipe dry with a dry, soft cloth in the direction of the wood grain.  Spills should be immediately wiped up with a damp cloth.
RISK MANAGEMENT
To reduce the risk of damage, take some precautions: Use coasters for glasses and mugs. If a glass top is added to the surface, be sure it rests on felt pads. Don't place a potted plant on a surface unless it's in a water-tight container or in a drip tray. Use protective pads under pottery,heavy objects or any items that may have a rough bottom.